Americanah by Chimamanda Ngozi Adichie
Americanah by Chimamand Ngozi Adichie
Until not too long ago, Chimamanda Ngozi Adichie was only a voice in a Beyonce song. It was a voice I admired, with a confident, precise, defiant, and almost insolent tone. It expressed topics and feelings that I felt like mine. Often *** Flawless appeared in my playlist just so that I could be inspired by that riff from Chimamanda, rather than Beyonce.

Americanah's plot
When I found the original version of Americanah in my local Italian bookstore, it was an unexpected joy. Reading about Ifemelu and her adolescence in Nigeria, her love for Obinze, her move to the United States and her return to Nigeria was a discovery that I esteemed from the very first lines. In them, besides a good story, I found the same voice and mind that made me fall in love years ago. I found the struggles of being a woman in a world of men, of being a stranger in a foreign land only to be later a foreigner, an Americanah, in one's own country. A stranger in one's own home. Chimamanda probably spoke about herself but, in reality, she gave (and still gives) voice to all of us.
And here is the point of contact: different cultures but similar minds.
Apparently disparate worlds but less diverse than the media tell us.
Americanah, made me feel guilty and manipulated, even though I know enough about the tricks of the communication trade.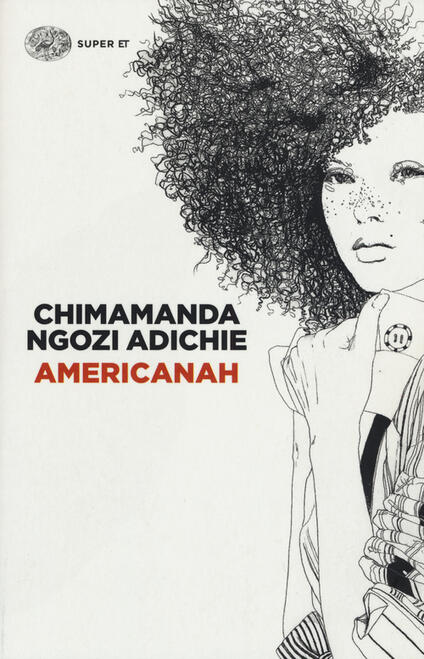 Is Africa a product?
The poor and disadvantaged Africa that we're "sold" is a lie, or rather it's part of the bigger picture. It is, in all aspects, a product that's massively marketed to the "western world".
As if to draw a deep furrow between Europe and Africa, in the narration of the continent, almost all similar aspects are left out, to emphasize those that instead divide us.
A woman who's changing the world
Distinctions emerge only thanks to the comparison with something different. A black person becomes "colored" only when she or he is in a context in which the majority is white, just like a Caucasian person becomes "white" only when she or he finds oneself in a different context other than the usual one. It is outside the comfort zone that the differences are noticed, but at the same time the enrichments are grasped. The message is therefore clear: to look further, to go beyond what we are told, or are used to believe. The responsibility is ours and Chimamanda is the kind of woman who can change the world and us.
Those who have lived a similar experience to that of Ifemelu will find in the novel a straightforward story in which to feel represented. Those who are miles away from the narrated events will find a way to change perspective.
A TED star
I think it's clear how much I enjoyed Americanah, but if you haven't already, as well as reading the novel, check out Chimamanda's TED Talks on "The danger of a single story", which emphasizes what I just said about Amaericanah and on why "We should all be feminists".
All I had heard about them is how poor they were, so that it had become impossible for me to see them as anything else but poor. Their poverty was my single story of them. […] When we reject the single-story, when we realize that there is never a single story about any place, we regain a kind of paradise.
Elena Feresin