Tagliatelle with San Daniele Recipe
The first course made in Friuli Venezia Giulia that will win your friends
Friuli Venezia Giulia is the home of simple, genuine cuisine and easy recipes. Our typical dishes are created with a few poor but tasty ingredients.
Today my virtual Mountain Hut smells of Tagliatelle with San Daniele.
The original Prosciutto Crudo from San Daniele is not exactly a poor ingredient, but all the other elements that make up this recipe are.
Tagliolini al San Daniele (I used tagliatelle, but any pasta is fine), is a simple and quick recipe to prepare but also very tasty. This is the first course from in Friuli Venezia Giulia that you can prepare to show off and make a great impression with your friends and relatives or to prepare for an alone dinner after a long day of work (that's what I did).
Before moving on to the recipe, however, let's take a step back.
Do you know prosciutto crudo di San Daniele?
Firstly, let's start by saying where San Daniele del Friuli is located. San Daniele del Friuli is a village in the hilly area of Friuli Venezia Giulia, between the provinces of Udine and Pordenone. It is located on a gentle hill, hugged by the Alps and the sea.
Knowing where San Daniele del Friuli is, seems like a secondary detail, but the location of this small town in Friuli Venezia Giulia plays a fundamental role in the creation of this kind of ham. It is said that it is precisely its strategic position and the meeting of the southern and northern winds that give the ham that unique flavor. A DOP brand is produced in our region only.
Recipes with Prosciutto Crudo di San Daniele
The best recipe with San Daniele ham is therefore San Daniele ham, eaten alone with a breadstick or a warm slice of bread.
But if you really want to use it in other ways, try it on pizza (add it when the pizza is already baked). As a "topping" for a gourmet burger. As a filling for tasty wraps or a crunchy in a risotto.
At
this link
, you will find a lot of delicious recipes. For now, let's focus on our tagliatelle.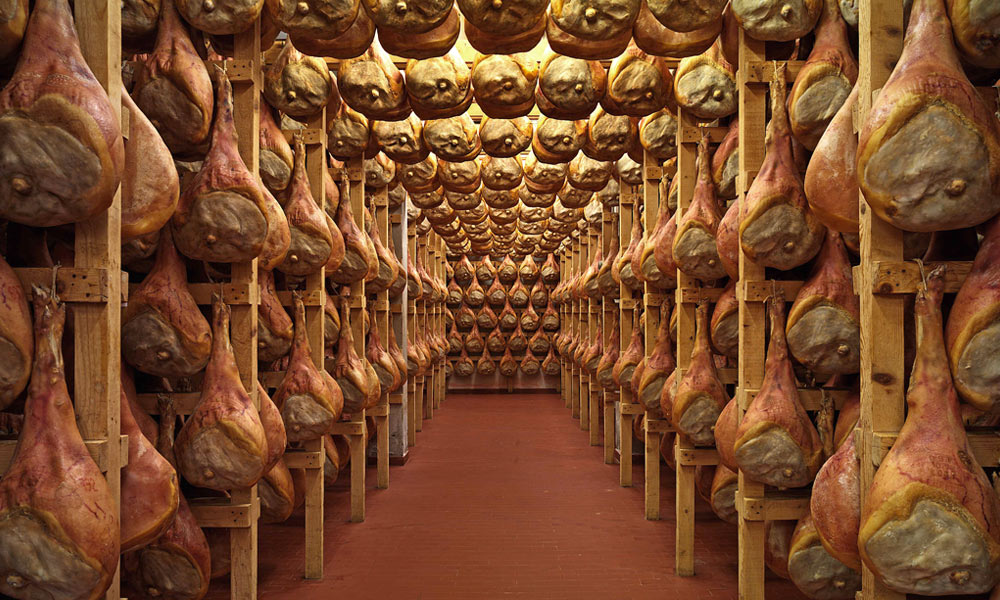 Ingredients
1 hgr of Prosciutto crudo di San Daniele in slices

Cooking cream to taste

50g of Butter

Poppy seeds

Tagliatelle or another kind of pasta for 4 people

Grana Padano to taste
If you want to make the pasta yourself, the proportion is 1 egg – 100g of flour.
How to prepare Tagliatelle with San Daniele:
Put cold water on the stove and let it boil. Add coarse salt and wait for the water to boil again. Keep a little cooking water aside to then dilute the sauce.

Meanwhile, melt the butter in a pan. Cut the slices of San Daniele ham into strips, leaving one slice aside for each diner. It will serve you as a decoration. 


Brown the raw ham in butter until it becomes slightly crunchy. Then add the cooking cream and let it rest.
Take a smaller pan and toast the poppy seeds. We will also need them as decoration. 

Cook the tagliatelle or pasta in boiling water and cook. The tagliatelle do not cook for more than 5 minutes but you should taste them to be sure they are al dente.

Drain the pasta and pour it into the pan with the San Daniele raw ham and the cream. Cook for a few minutes over low heat, adding a little parmesan (not too much) and the cooking water kept aside until the sauce is creamy.

Serve the pasta and roll a slice of San Daniele raw ham over each plate. Then sprinkle with toasted poppy seeds and serve.
Where to buy prosciutto crudo
Elena Feresin